Resolver to Digital Converters
A resolver to digital converter is an electrical type device that acts as a converter of resolver sensors signal and outputs them as a digital value that corresponds to the rotating shaft angle and velocity.
How does a resolver to digital converter work?
This particular type of converter operates by using sine and cosine signals to decode the angular position and rotation speed of...
Showing 1-2 of 2 products
Relevance
Price (high-low)
Price (low-high)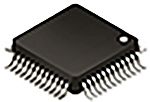 Available in multiples of 1
RS Stock No.: 2508585234
Brand: Analog Devices
Manufacturers Part No.: AD2S80AJD
Available in multiples of 1