EV Charging Pedestals & Wall Mounts
EV charging pedestals are specially designed for mounting charging stations to the ground or to a wall. The pedestals are often freestanding, can be installed inside or outside, and provide a convenient alternative to wall mounting.
EV charging pedestals are quick and easy to install and provide a robust and reliable support for your charge point.
Showing 1-2 of 2 products
Relevance
Price (high-low)
Price (low-high)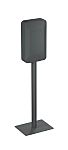 RS Stock No.: 212-1826
Brand: ABB
Manufacturers Part No.: 6AGC085684
Available in multiples of 1
Back to Back Pedestal
100mm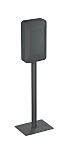 RS Stock No.: 212-1823
Brand: ABB
Manufacturers Part No.: 6AGC085345
Available in multiples of 1