AAAA Batteries
AAAA batteries, sometimes called Quadruple A batteries, are small cylindrical batteries. These batteries are sometimes referred to as LR8D425 or 25A models. Compared to an AAA battery, AAAA batteries are 40% smaller and 20% thinner, with a length of 42.5 mm and 8.3 mm in diameter. They have a power rating of 1.5 volts.

What are AAAA batteries used for?

AAAA batteries are t...
Showing 1-3 of 3 products
Relevance
Price (high-low)
Price (low-high)
RS Stock No.: 194-6719
Brand: RS PRO
Each (In a Pack of 2) (ex VAT)
Available in multiples of 2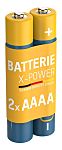 RS Stock No.: 201-9793
Brand: Ansmann
Manufacturers Part No.: 1510-0005
Available in multiples of 1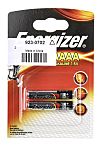 RS Stock No.: 923-0702
Brand: Energizer
Manufacturers Part No.: 7638900202410
Available in multiples of 1
Energizer
Energizer Alkaline
550mAh
9g